Radiology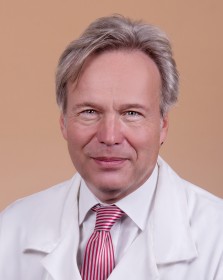 primář MUDr. Petr Lhoták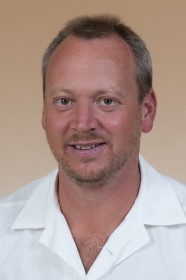 radiologický asistent Mgr. Dušan Hejna
MUDr. Luděk Štěrba

Contacts
| | phone | email |
| --- | --- | --- |
| | 387 873 241 | rdo@nemcb.cz |
The Department of Radiology performs diagnoses and treatment using X-ray machines and under ultrasound control. Magnetic resonance imaging and computer tomography examinations are carried out not only for all hospital departments, but also for other health care facilities in South Bohemia. Examinations are carried out on inpatients and outpatients. The department organizes and provides further training for radiologists and other staff from both its own ranks, as well as for other workers, using various forms of further education. The department's staff is also involved in educating students of the Faculty of Health and Social Care of the University of South Bohemia. The main programme in the department is the development of vascular intervention techniques with an emphasis on the quality and safety of imaging.
The central department where fluoroscopy and radiographic examinations, CT imaging and mammography examinations are performed. Besides diagnostic procedures, we are also specialised in biopsy, including stereotactic biopsy, and localization of non-palpable breast lesions.
The Department of MRI and US in the CH1 Pavilion performs diagnostic and diapeutic interventions.
Two radiographic units, angiographic line and computer tomography (CT) are installed in the CH Pavilion.
Other branch offices with basic radiographic diagnosis
Overview of the most frequent examinations and interventions
The department has two computer tomography scans, which are used for examination of the body´s internal organs with minimum level of radiation exposure. Besides diagnostic interventions, we also perform specialized interventions.
In order to diagnose the organs, such as neck, abdomen, soft tissues, organs of the small pelvis, to examine blood vessels and breasts, we use two US machines in our Department.
The Department also specializes in the MR imaging of the central nervous system and the musculoskeletal system. At present, the Department has two MR tomographs.
Besides diagnostic procedures, the complex vascular and non-vascular interventional procedures for other medical facilities in the region are also performed at the angiography unit.
Interesting links
The Society of Radiologists www.crs.cz
Department of Radiology - Medical research and scientific activities
In cooperation with other health care institutions in the region, we organize the South Bohemian Days of Radiology. In addition, the Department organizes educational and informative seminars for practitioners and colleagues in the field.
The Department is involved in undergraduate teaching of students from the University of South Bohemia, and also contributes to the further postgraduate education of physicians in the field through lectures, seminars and practical exercises in training places in the CT, US, MR, AG units.
Physicians and radiographers actively participate in professional conferences, including events with international participation.
In collaboration with clinical departments, we are involved in monitoring patients enrolled in clinical trials.