1st Department of Subsequent Care
primářka MUDr. Jitka Cábková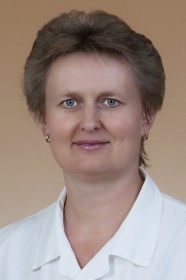 vrchní sestra Mgr. Jindra Hašková, DiS.
MUDr. Vít Waldhauser

Contacts
| | phone | email |
| --- | --- | --- |
| | 387 87 4901 | onp1@nemcb.cz |
The Department of Follow-up Care I mostly hospitalizes patients with chronic diseases related to all systems the treatment of which requires hospitalization, but not an acute bed. The broad range of treated diseases is dominated by disorders of internal organs. The department treats many patients after injuries, operations, most often of the musculoskeletal system when the treatment and subsequent rehabilitation require a longer period of time because of older age and the nature of the disease. Patients are admitted from all acute beds in our hospital and, to a lesser degree, also registered patients referred by general practitioners.Due to the large number of patients who require assistance to solve their social needs, the department employs social nurses who provide social service help, for example with home care agencies, and helping our clients and their families secure places in rest homes, etc. Work in the department requires highly qualified staff i.e. physicians, nurses and others. This department is renowned for the high quality of its follow-up care. To uphold this tradition, the staff continuously educates themselves and organizes training events.